Submitting a Regrade Request
If your instructor has allowed it, you can submit Regrade Requests for questions you feel were graded incorrectly. When you view your submission, if you see a Request Regrade button in the bottom action bar, regrade requests are enabled.
To submit a Regrade Request, first click on the question that you wish to submit a request for. This will display the rubric for that question and highlight the rubric items that were applied. Once a question has been selected, click the Request Regrade button in the bottom action bar. A textbox will appear allowing you to type an explanation of the request for the specific question that was chosen.
Tip: Instructors are most likely to respond to regrade requests when they are polite and concise.
Regrade requests are per question, so if you have multiple requests, make sure to submit one for each question that should be reviewed.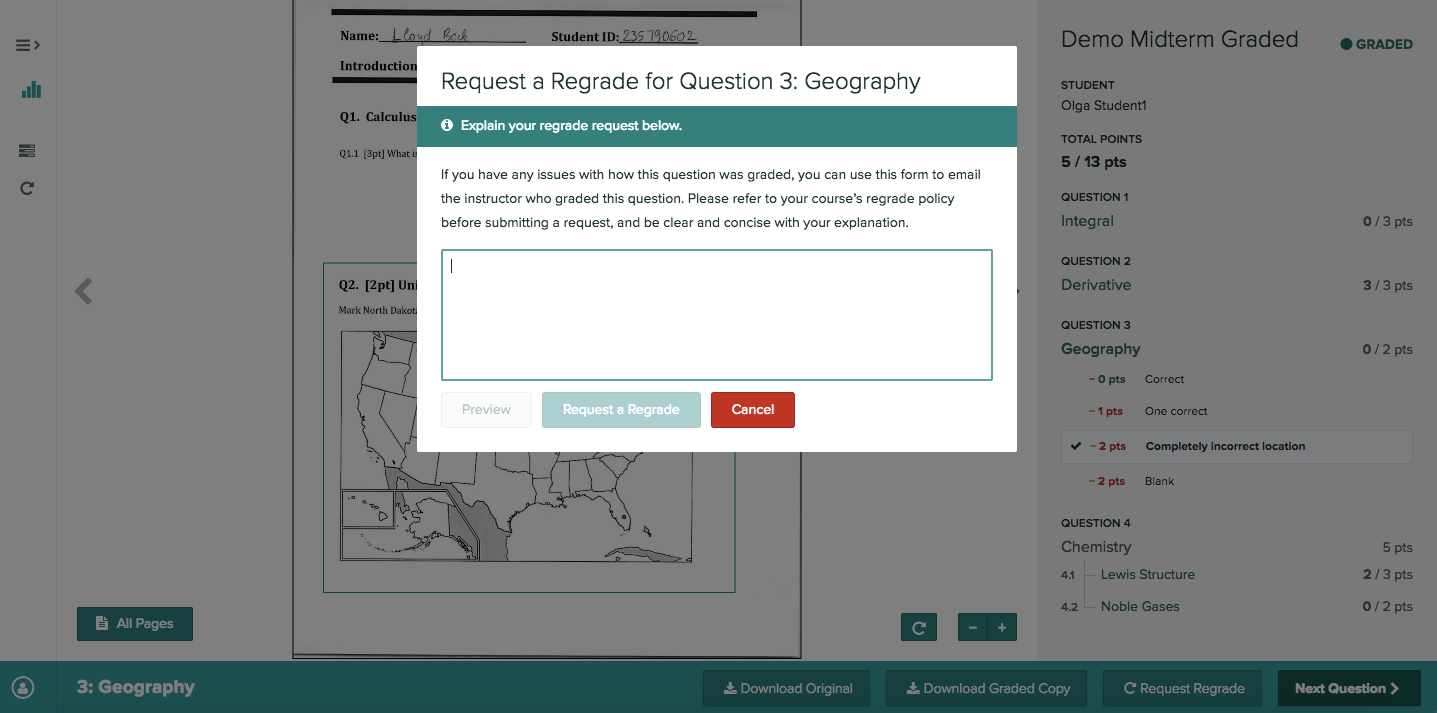 Once a request has been sent, your instructor(s) and the grader(s) who graded the question will receive an email notifying them of the request. The grader(s) can then optionally re-grade the question, reply with a response, and close the request. Upon closing the request, you will receive an email notifying you the request has been resolved.
You can view all pending and completed regrade requests for a course from the Regrade Requests page (in the left sidebar). Regrade requests that have been addressed by the instructor will be marked as "Completed", and you'll be able to see your updated score for that question.
You can also check the status of your regrade request when you view your submission. If the badge next to the question says IR, your regrade request is in review. If the badge says R, the regrade request has been resolved. After the regrade request is resolved, you can make another request by selecting the question and clicking the Request Regrade button again. You can see the complete conversation thread for a specific request by clicking on a question when you view your graded submission.
Was this article helpful?
Awesome, glad that it's helpful! 🙌 Have ideas on how we can improve?
Sorry to hear that. Let us know what we can improve!
Need help?