Migrating from Canvas LTI 1.0 to LTI 1.3 for Administrators
Benefits of migrating from Canvas LTI 1.0 to LTI 1.3
The following table lists some Canvas-specific benefits. For more information on general LTI 1.3 migration benefits, see our LTI 1.3 and Advantage FAQ article.
| | | |
| --- | --- | --- |
| Benefit | LTI 1.3 | LTI 1.0 |
| Assignment linking is faster  | Instructors have a single workflow in Canvas where they create the Canvas assignment and the corresponding Gradescope assignment at the same time. | Instructors create an assignment on Canvas, then create the assignment on Gradescope, and then link the two assignments from the Gradescope assignment Settings page. Instructors first need to access the Gradescope course via the Canvas link and then select the relevant assignment from a list in order to complete the linking.  |
| Easier access to the Gradescope tool in Canvas | The Gradescope tool is an option in the Course Assignments menu for faster assignment linking. | There is no Gradescope tool option in the Course Assignments menu. |
Before you begin
If you would like instructors and students to still access the existing LTI 1.0 course and assignment links from within Canvas, we recommend only completing Step 1 in this guide (disabling the LTI 1.0 integration on the Gradescope side only) and postponing completing Step 2 (hiding the placements on the Canvas side) until all current LTI 1.0-linked courses and assignments are no longer in use.
Step One -  Switching your Integration from LTI 1.0 to LTI 1.3 In Gradescope
Before you start, make sure you have completed the Gradescope 1.3 installation and configuration in Canvas in your testing, beta, or production environment.
Access your Gradescope account.
To open your integrations page, select LMS Integrations from the account dashboard. You should see your existing Canvas LTI 1.0+API integration configuration listed.

To edit your Gradescope LTI 1.0 integration, select Edit in the bottom-right corner.

Uncheck the Enable Canvas integration for all courses check box in the Canvas Configuration section.

Save your changes. You'll be asked to confirm your changes.
Select the Yes, update integrations check box. Then, select Update Integrations.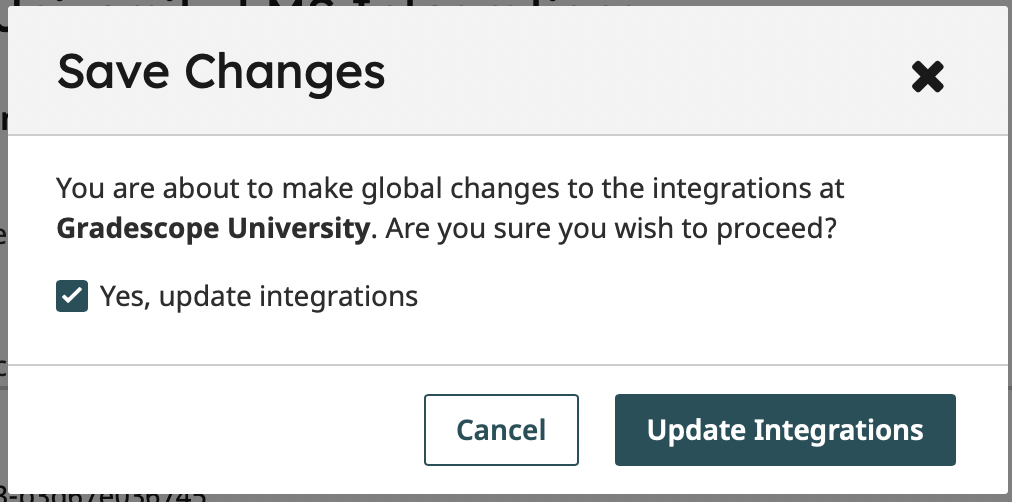 How will this integrations update change new and existing courses?

For new courses: This update removes the LTI 1.0 buttons from any new courses created on Gradescope, so any new courses will not have the LTI 1.0 linking options.

For existing courses: Any of your institution's existing Gradescope courses will remain linked and can still use the LTI 1.0 integration. Additionally, any existing courses are still linked via LTI 1.0 post-migration and can still sync rosters and post grades.

Step 2 – Switching your Integration from LTI 1.0 to LTI 1.3 in Canvas
Access your Canvas account.  
From the admin navbar, select Admin and then Settings.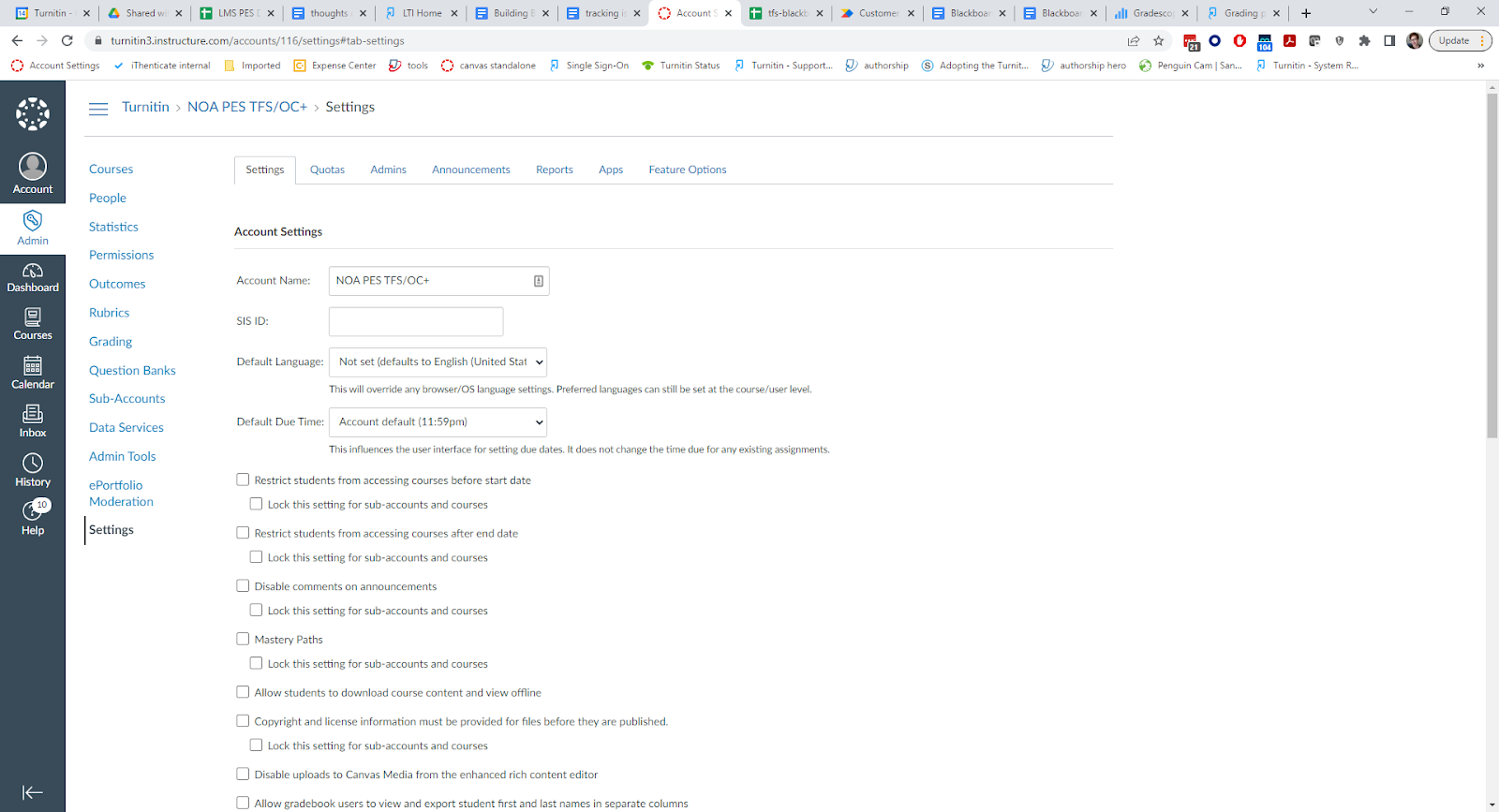 To view the External Apps page, go to the Apps tab.
Select View App Configurations.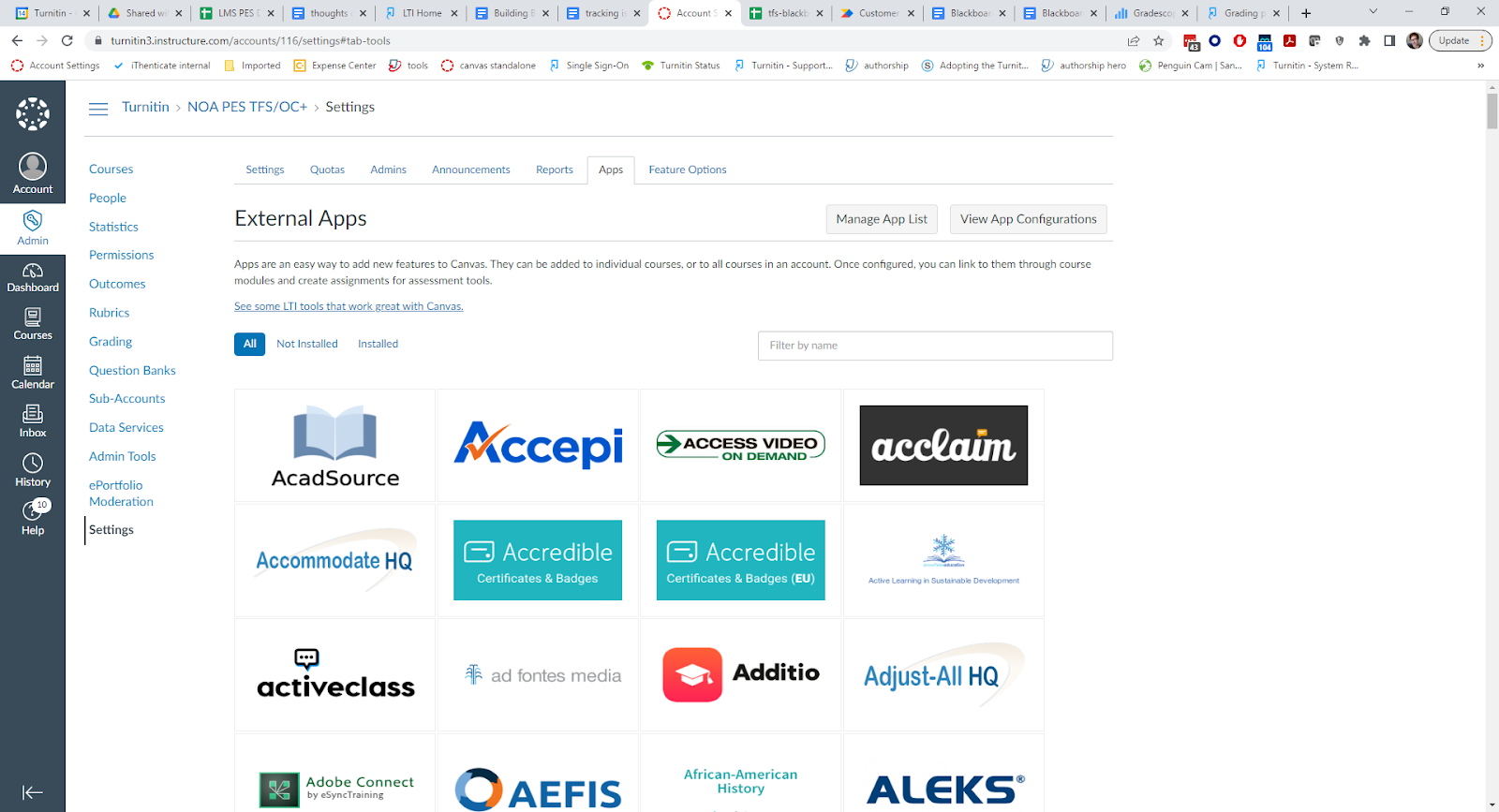 To edit your existing LTI 1.0 Gradescope integration, select Edit from the Settings menu (cog icon).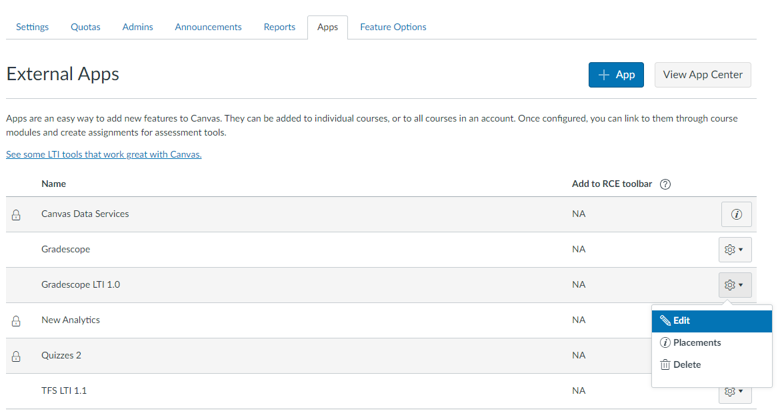 Recommended: To prevent any confusion between your Gradescope 1.0 and 1.3 integrations,
select Edit from the Settings menu (cog icon) and rename this integration to Gradescope LTI 1.0.


If both the LTI 1.0 and LTI 1.3 placements are enabled in parallel, we highly recommend giving the two tools different names to prevent any confusion for the instructor and students.

Save your changes.
Next, select Placements from the Settings menu (cog icon).

Uncheck the Course Navigation and Assignment and Link Selection options in the App Placements modal. Then, select Close.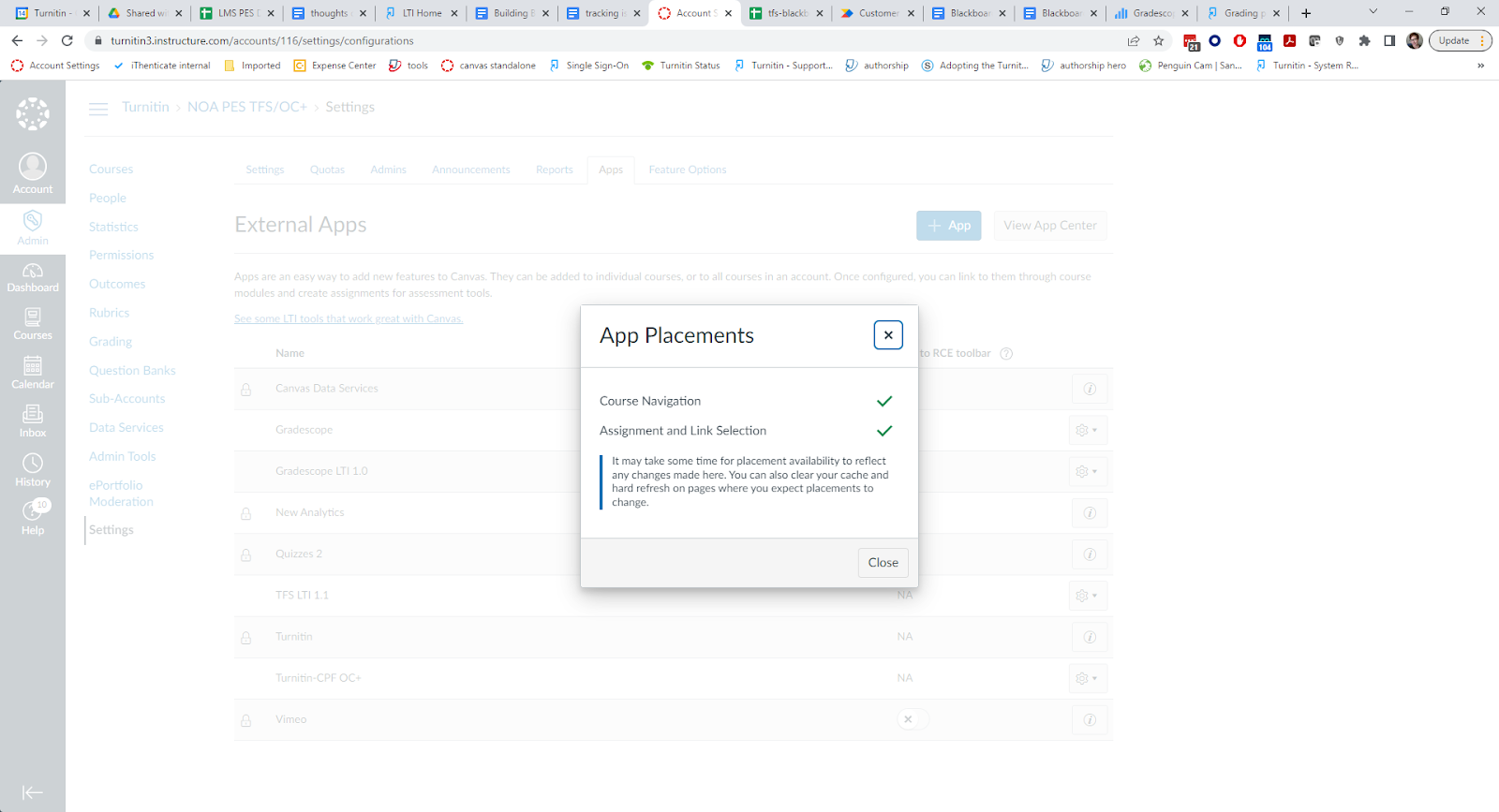 Tip: Because it may take up to a few hours for Canvas to hide the placements from all instructor courses and assignments, consider disabling the placements in the evening or on a weekend, or at a time when few people are using Canvas and Gradescope. 
What happens once I remove these placements?
During the time it takes Canvas to hide these placements from courses and assignments, instructors and students may see an error when clicking on the LTI 1.0 course placement in their Canvas course sidebar. However, assignment links should not be impacted. 
Once placements have been removed, all existing LTI 1.0 assignment and course links will be hidden from all instructors and students on the Canvas side, so instructors and students will no longer be able to launch Gradescope via LTI 1.0 from Canvas.
Instructors and students can still access existing courses and assignments that are linked to Gradescope via LTI 1.0 from within Gradescope. These courses remain linked to Canvas via LTI 1.0 behind the scenes, and instructors can still sync rosters and post grades to Canvas for these courses and assignments by using the Sync Canvas Roster or Post Grades to Canvas options from their Gradescope course.
Instructors won't be able to create any new LTI 1.0-linked assignments in Canvas or Gradescope courses nor link any new Canvas courses to Gradescope via LTI 1.0. 
We recommend advising instructors to keep existing courses and assignments linked to LTI 1.0 and to link new courses and assignments to LTI 1.3, to avoid double-linked courses.
Do your instructors need help migrating their courses and assignments to LTI 1.3? See our guide for Duplicating Canvas courses and assignments from LTI 1.0 to 1.3 for Instructors.
Was this article helpful?
Awesome, glad that it's helpful! 🙌 Have ideas on how we can improve?
Sorry to hear that. Let us know what we can improve!
Need help?