Duplicating an Assignment
All Gradescope assignment types can be reused or duplicated easily for the same or a different course. When you duplicate an assignment, the settings, question outline, all question rubrics, Autograder configurations, and question content will also be copied and imported into a new assignment. Follow the steps below for how to do this.
To duplicate an assignment, navigate to the Assignments page of the course where you want the new assignment to be created.
Click on Duplicate Assignment at the bottom of your screen. A dialog box with a list of your courses will appear.
Click the course that has the assignment you'd like to duplicate. This will reveal the list of the assignments for that course.
Select the assignment you want to duplicate and enter the title of the new assignment. Assignments cannot have the same name within the same course.
Select Duplicate.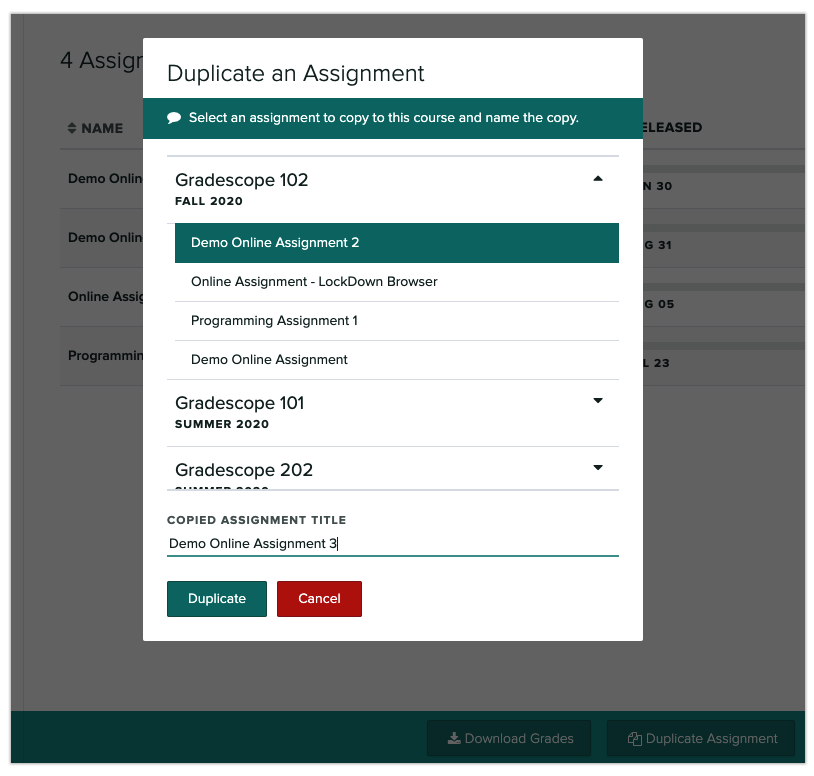 If you want to duplicate all of the assignments within your course, see the section on
duplicating a course
instead.
If you only want to duplicate the rubric for a specific question, see the section on
Importing rubrics
instead.
Was this article helpful?
Awesome, glad that it's helpful! 🙌 Have ideas on how we can improve?
Sorry to hear that. Let us know what we can improve!
Need help?