Configuring Gradescope LTI 1.3 in Blackboard
Configuring Gradescope LTI 1.3 in Blackboard
Before you can begin configuring your LTI 1.3 integration, please contact your Account Manager or Gradescope Integrations Lead so that we can enable the integration permissions to your account. Once you have received our confirmation that your Gradescope account has the necessary permissions, you can continue onto the first step.

If you don't have an account yet, go to the Gradescope website and select Sign Up. Select the Instructor role, fill out the provided form and ensure you use the same email address you use on Blackboard. You will be emailed with a link to set a password so that you are able to access your new account.
We recommend that you either complete the configuration process all at once, or on your test Blackboard environment if you think it may need to be completed in stages. 
To register LTI 1.3 in Blackboard, log in as your LMS Administrator.
Navigate to the Administrator Panel (Admin in the left menu).
In the Integrations menu, select LTI Tool Providers.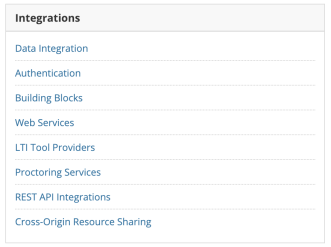 In the top menu, select Register LTI 1.3 Tool.

Enter the client ID - eba2b217-3800-4dd49556-1bfaf697547d and select Submit.
The 'Tool Status' section will be automatically populated. Please make sure that this is the LTI tool you want to register.

Ensure the Tool Status setting is set to Approved.
In the Institution policies section, ensure all of the User Fields to Send options are selected, and set both Allow Grade Service Access and Allow Membership Service Access to Yes.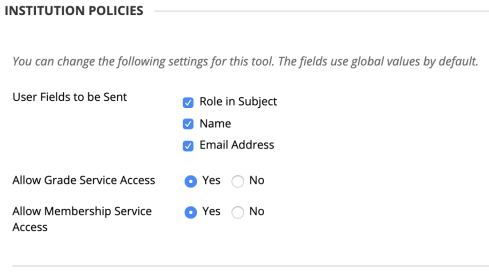 Select Submit.
A purple banner indicating your successful registration within Blackboard will appear at the top of the LTI Tool Providers page. Gradescope will now appear as an option for your instructors, but they will receive error messages until Step 14 is complete if they attempt to create Gradescope courses or assignments via the LTI links in Blackboard.
If your institution will be using the
gradescope.ca
,
gradescope.eu
, or
gradescope.com.au
instance, select the check box beside your newly listed Gradescope Tool/Provider. A dropdown arrow will appear, select Manage Placements. Hover over Gradescope Course and select Edit from the drop down arrow. Scroll to the bottom of the settings page and locate Tool Provider Custom Parameters. Update your preferred geography from US to your geographical location:
eu - Europe
ca - Canada
ap - Australia
Select Submit and move onto step 11.
Access a course and select Books & Tools.
Gradescope Course is now an option. Select this new option. 
You may be prompted to log into Gradescope if you are not already. Please ensure you are logging into the account that has had the integration permissions enabled. 
Enter your Branded Platform Name and select your school. This will be the name that instructors will see in Gradescope when referring to your Blackboard integration. We recommend using a name that instructors will easily associate with your Blackboard LMS.
In the example shown in the picture below, the Branded Platform Name was set as "Blackboard". If the Branded Platform Name was set as "Blackboard Test Account" the button would read as "Post Grades to Blackboard Test Account". We recommend not naming this field "Gradescope" as it may cause confusion to instructors.

 You're done! Your instructors are now able to link their Blackboard courses to Gradescope, sync rosters, create and link assignments, and sync grades between Gradescope and Blackboard. Want to know how? Check out our Blackboard guidance for instructors. We also provide guidance for your students.
Was this article helpful?
Awesome, glad that it's helpful! 🙌 Have ideas on how we can improve?
Sorry to hear that. Let us know what we can improve!
Need help?