To edit your account information, you first need to find the Account Settings page. Click on Account in the lower-left corner of the dashboard and select Edit Account from the menu. This will take you to the Account Settings page.
On the Account Settings page, do all of the following that you need to:

update your full name
add or switch an email address (see next section)
merge two accounts (see Merging Accounts)
update your student ID (if you are a student)
update your password
update your regrade request notification settings (if you are a course instructor or TA).
link or unlink an account (see next section)

Click Submit when you're finished.
Adding and switching email addresses
If you'd like to access Gradescope with a different email address than the one used to create your account, you can add another email and switch it to be your primary one on the Account Settings page as well. If you do add another email address, Gradescope will send a verification link to it. Follow the verification link to confirm that you'd like the new email address added to your account.
Merging accounts
If you seem to be missing courses or assignments when you log in, it's likely that you have another Gradescope account under a different email address. If you'd like, you can merge your accounts, from the Account Settings page too, allowing you to access all your courses and assignments from one account. Check out the Merging Accounts article for full instructions on how to do this.
Resetting your password
On the Account Settings page, you can change your password, but have to be able to login to do that. If you have forgotten your password altogether or are otherwise unable to log in, please go to the Gradescope website, click Log In, click Forgot Password? and enter your school email. You will receive an email with instructions. If you're still having trouble, see our full Resetting Your Password article or contact help@gradescope.com.
Changing your account's language
Using the drop-down bar, select your preferred language. Gradescope currently supports English-US, Japanese, Korean, Spanish, Brazilian Portuguese and Turkish. This setting changes the language displayed within your personal Gradescope account. It will not change the default language of other instructors or students within your institution (contact your account manager to find out how) or affect your linked LMS account if you have one. 
Any images within Gradescope are currently untranslated and will be displayed with English-US text.

Linking accounts
At the bottom of the Account Settings page, you have the option to link your Gradescope account to your school account or other external accounts. 
In the Link External Account section, directly link your school accounts or external accounts like Google, GitHub, and Bitbucket to your Gradescope account. You can link these accounts at any time, even before there are any assignments to submit.
You can link multiple external accounts to a single Gradescope account. This can be helpful if you have different external accounts for different courses that use Gradescope.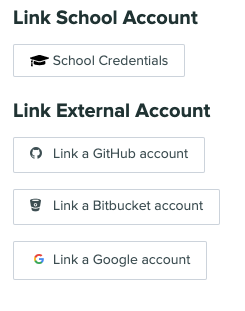 Unlinking accounts
At the bottom of the Account Settings page, successfully linked accounts appear in the Linked Accounts section. Each account has a Remove button that you can use to unlink the account from Gradescope. When unlinking an account, locate your relevant account, and select Remove. In the confirmation modal, select OK to remove the account, or Cancel to keep it.

Was this article helpful?
Awesome, glad that it's helpful! 🙌 Have ideas on how we can improve?
Sorry to hear that. Let us know what we can improve!
Need help?