Bubble sheet assignments allow you to pre-define the correct answers for questions on multiple choice assignments. If you distribute and have students mark their answers on the Gradescope 200-question bubble sheet template, you can indicate the correct responses for each question ahead of time allowing Gradescope to automatically grade all student submissions for you as they're uploaded.
If there are fewer than 200 questions on your multiple-choice assignment, simply use the first page of the Gradescope bubble sheet template and apply the same methods for indicating the answers in Gradescope ahead of time, uploading submissions, etc. Gradescope will only autograde questions where you previously marked the answers. Leave unneeded question and answer rows blank and Gradescope will ignore them when autograding submissions.
Bubble sheet assignments are available with institutional site licenses and for individual courses subscribed to 
Gradescope Complete
. If you have any questions about getting access in your course, please 
send us an email
.
To create a bubble sheet assignment, go to the course's Assignments page and click Create Assignment in the bottom right of the page. Select Bubble Sheet from the list of assignment types. Give the assignment a title and select whether instructors or students will be uploading submissions. If you choose to let students upload the assignment, you will also need to choose the assignment release date, due date, and set your template visibility preference and group submission policy. Then, you will be taken to the Answer Key page.
Timed Assignments
By default, the Bubble Sheet assignment type is set up for instructors to scan and upload. However, you can change this by choosing "Students" under Who will upload submissions? in your Assignment Settings. If you do that, a handful of additional settings will appear (i.e., release date and due date) including an option enforce a time limit. By selecting "Enforce time limit" you'll be able to use the Maximum Time Permitted feature to give students set number of minutes to submit their completed answer sheet from the moment they open the assignment and confirm that they are ready to begin.
Keep in mind that if you're administering a timed 
Bubble Sheet
 assignment, you should share 
Gradescope 200-question bubble sheet template
 with students ahead of time and instruct them to print it before they start their assignment timer. If you'd like to save students the trouble of completing, scanning, and uploading work under a time limit, you can always create an 
Online Assignment
 made up of all multiple-choice questions that students will answer directly in the Gradescope interface.
Setting up your bubble sheet assignment
Accessing templates and template visibility
It is important that all bubble sheet submissions follow our provided Gradescope's blank 200-question template. Bubble sheet assignment settings are displayed for instructors to scan and upload on behalf of the students by default. Instructors can download and print copies of the template from this guide or from the Answer Key page. If the assignment settings are changed to allow for students to scan and upload, selecting "Allow students to view and download the template" will grant them access to download the template themselves when they select the assignment.
Please note that the template cannot be customized to contain question content. You will still need to give students the questions for their multiple-choice assignment outside of Gradescope.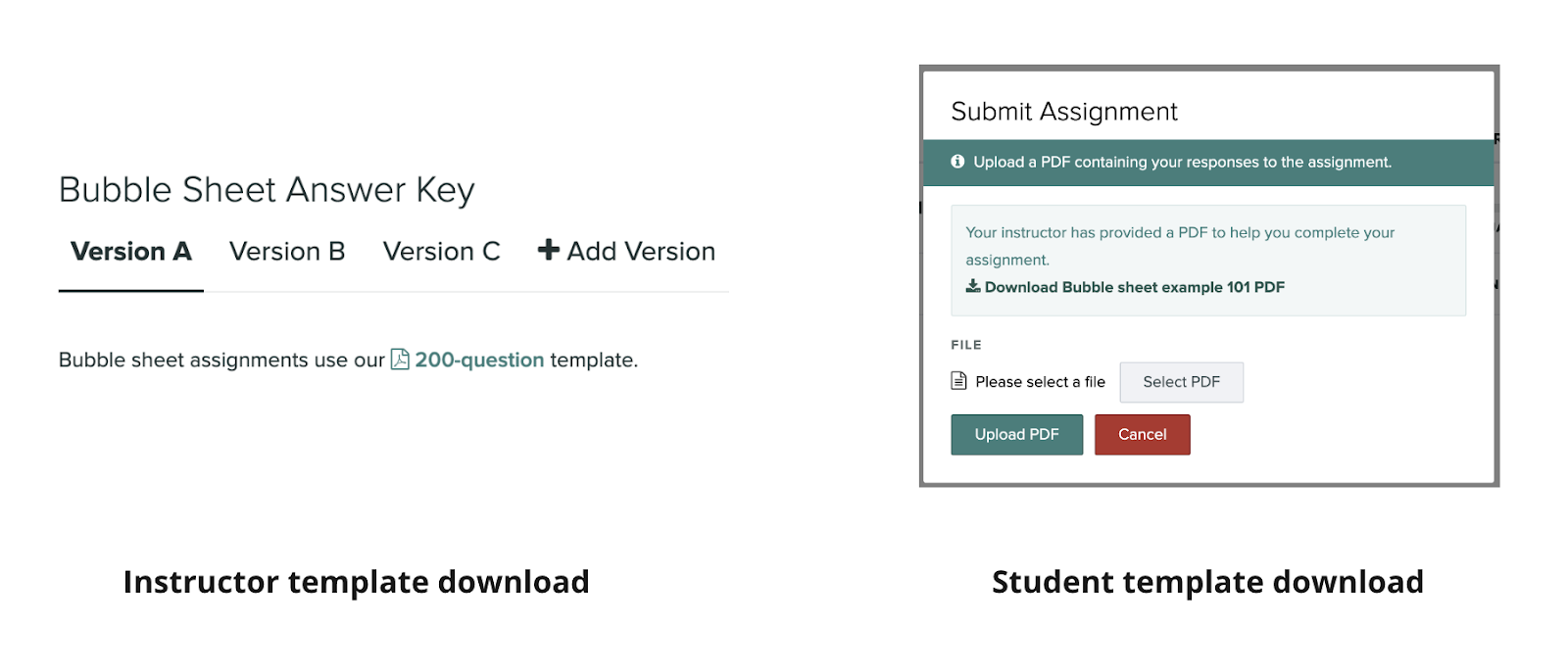 Creating multiple versions
On the Answer Key page, you have the option to create up to five separate versions of the assignment by selecting the +Add Version button. Each version can have its own answer key, point value, and scoring settings. To delete the last created version, select the red X.

Gradescope's blank 200-question template contains an area for students to mark their given version which will automatically be read during assignment upload. If there are any uncertain versions (versions which cannot be determined automatically), you will be notified on the Manage Submissions page and will be able to manually assign those submissions to a version.  
If your bubble sheet assignment has multiple versions, instruct your students to mark their version onto their bubble sheet. Different versions of the same bubble sheet assignment can be
scanned together as a single PDF file
. You do not need to pre-sort the submissions by version, Gradescope does this automatically for you.
Bubble sheet versioning, or any kind of assignment versioning, is not available for student-uploaded assignments. To see how to create versions on your instructor-uploaded Exam or Homework assignments, check out our assignment versioning availability guide.
Answer Key 
On the Answer Key page, indicate the correct answer(s) for each question on your assignment. For questions with multiple answers, there are three grading styles to choose from:
Exact - Full points are only awarded when all correct answers are selected
Partial - Partial credit is awarded per correct answer selected. If an incorrect answer is selected, zero points are awarded. 
Either/Or - Full points are awarded when any of the correct answers are selected. If an incorrect answer is selected, zero points are awarded. 
The number of points each question is worth can be set above the answer key. The point value and scoring settings can be changed for individual questions by selecting the settings cog beside the question number. Any questions that are left blank will not be graded. 
To revert back to a blank answer key, select Clear Answers. This will remove all selected answers and grading settings for the version you are viewing.
Once you are finished setting up any versions and your answer key, select Save Answer Key. You will be directed to the Manage Scans page where you will be able to upload the submissions.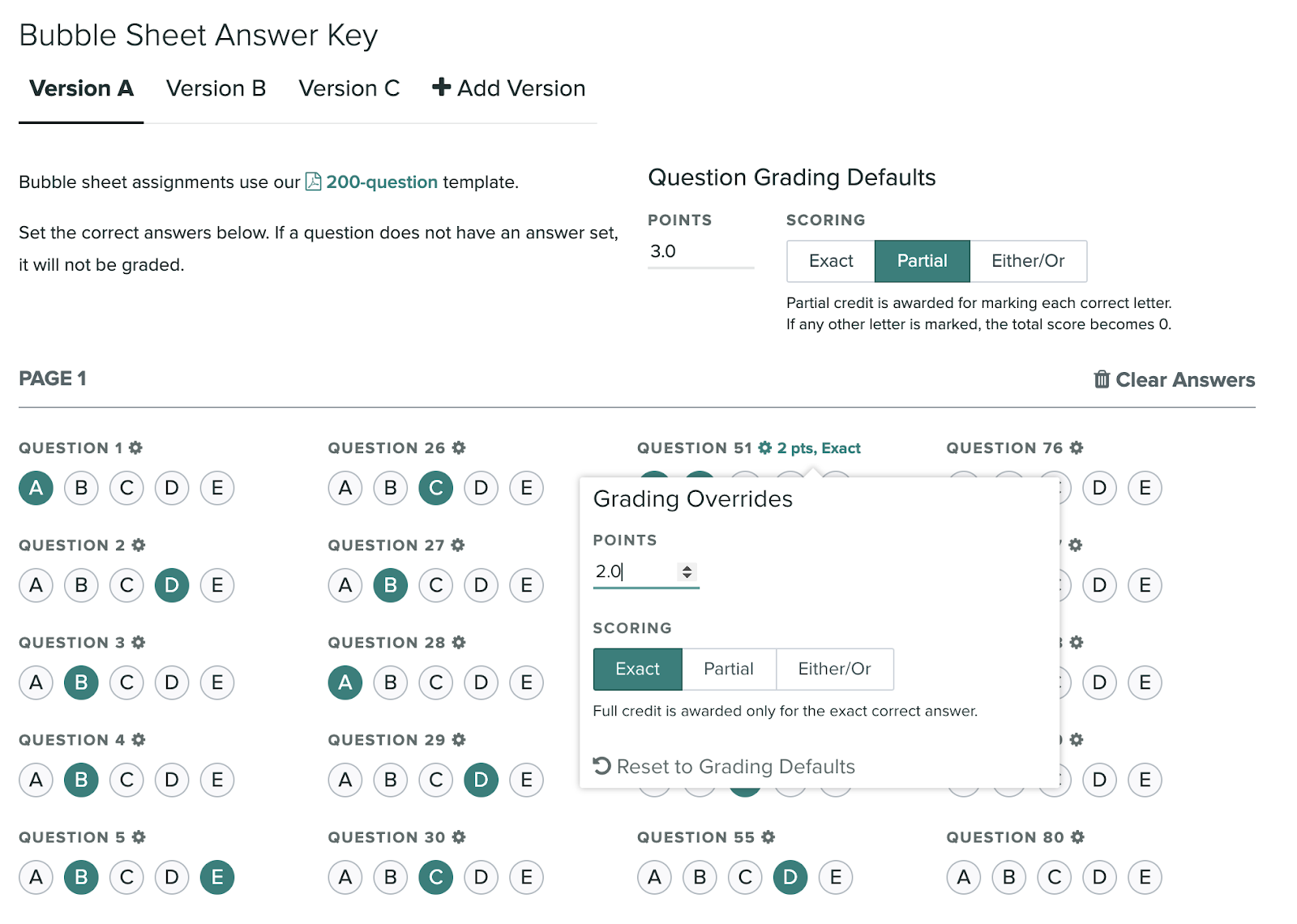 Managing uncertain versions
For bubble sheet assignments with multiple versions, if we have been unable to automatically assign a version to a submission, you will be informed on the Manage Submissions page. The number of uncertain versions will be highlighted at the top of the page and a question mark will be displayed under the Version column for the affected student(s).
Before manually assigning a version to a student's submission, you need to ensure that all submissions have been linked to a student. To learn more on assigning submissions to students, check out our
Managing Submissions
guide.
To manually assign a version, select the Uncertain Versions notification. A modal will appear displaying
the affected students' names
an image of the version section from their submission
the estimated scores they would receive with each version
If the student has left this area blank and the image is not helpful, select the student name to view their full submission in order to work out their assigned version. Once you are ready to assign the version to the student, select the version bubble and then select Confirm Versions. 
If
anonymous grading
has been selected for your assignment, the student's randomized alphanumeric identifier will be displayed instead of their name. Selecting the identifier to view the full submission will display whatever has been written as the student name and may remove that student's anonymity.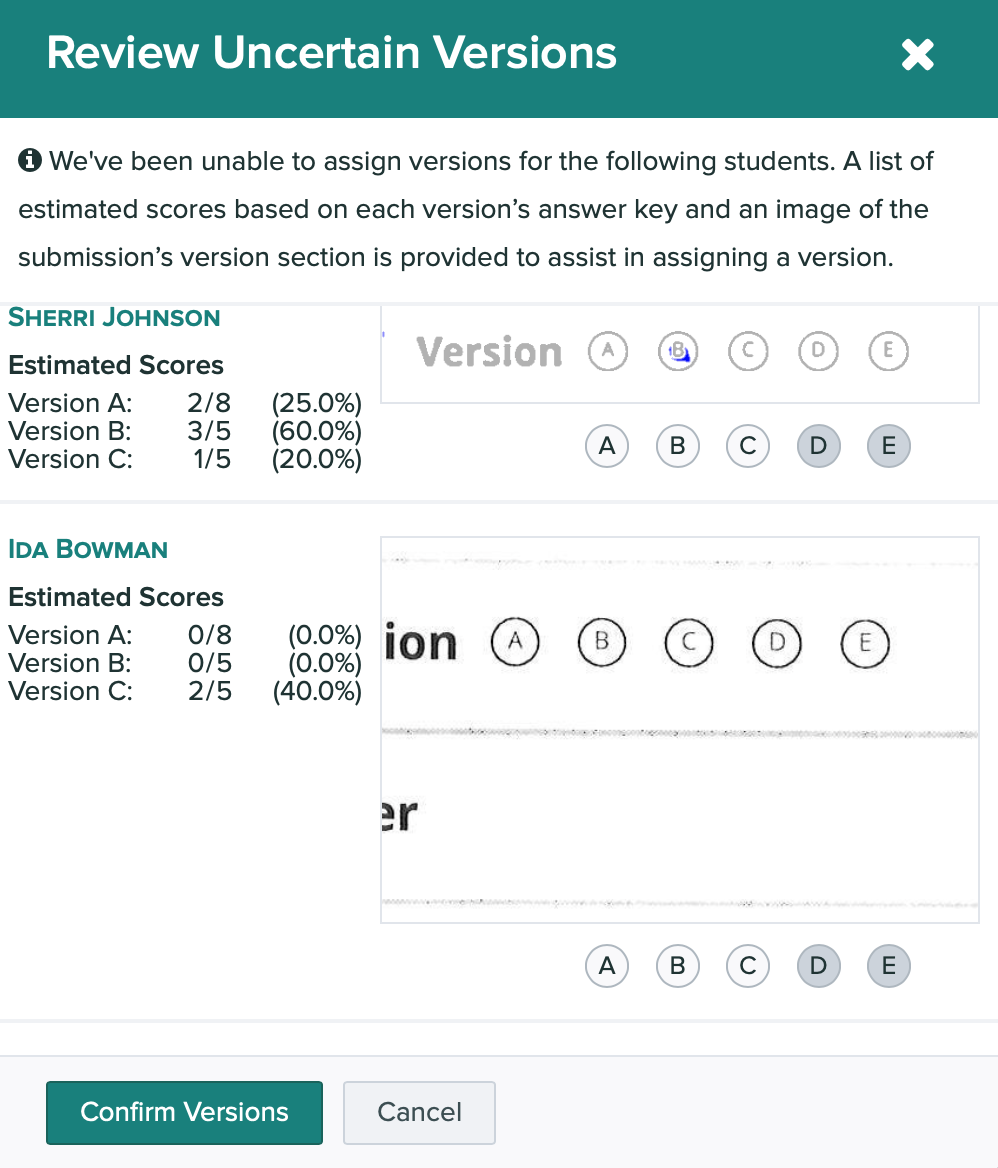 Extending dates and time limits
If you want to extend or modify when a specific student can start, work on, or submit an assignment, check out Extending assignment release dates, due dates, late due dates, and time limits.
To learn how to give a student more time on all timed assignments in a course, check out Extending time limits at the course level. Currently, at the course level, you can only give blanket time limit extensions. You cannot give a student an extension on all assignment release dates, due dates, or late due dates in a course at once. You would need to give the student those extensions on each assignment. 
Does your assignment have
anonymous grading
enabled? Adding an individual extension could impair the anonymity of the student if there are only a few students with extensions, so we recommend only extending where absolutely necessary. 
Grading
Gradescope will automatically begin processing and grading the submissions as soon as they have been uploaded. This may take a few minutes depending on the number of submissions. If your assignment has multiple versions, you can either view the results of all submissions together, or view them by version number.
If some answers are not graded, that is because our AI was not confident enough to select an accurate result. To review uncertain marks, select Uncertain Marks at the top of the Grade Submissions page or the notification next to each question. You'll see an image of the student's answer and Gradescope's proposed identification. If any of the suggestions are incorrect, click the correct bubbles. Select Confirm All Marks to grade all the submissions with uncertain marks.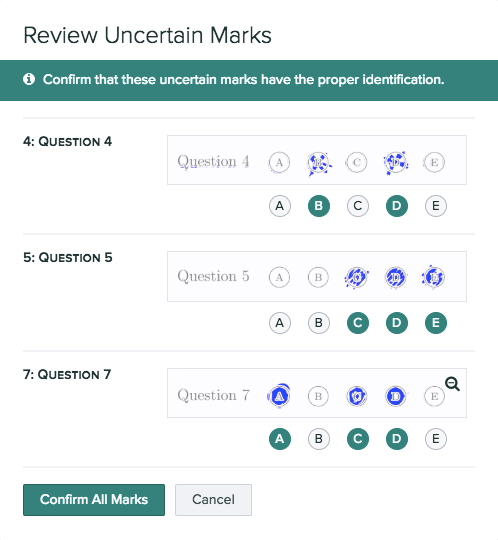 ​​If you'd like to award custom partial credit to certain answer options, give more detailed feedback for each option, or adjust the rubric in any way, you can do so by selecting the specific version, if you have multiple, and then select the question name on the Grade Submissions dashboard. Select Grade Answers in the bottom action bar to access the rubric for that question.  Any changes you make to the rubric for a given question will apply to all students who have that version and rubric item applied.
Reviewing Grades
Once all submissions are graded, you can publish the assignment to students (Reviewing grades). If your bubble sheet assignment has multiple versions, note that you can view, publish, and download grades for all versions at once from the All tab at the top of the Review Grades page, or only for students who had specific versions by clicking on the tab for the version on the Review Grades page. For individual versions, you will also have the option to Export Evaluations and Export Submissions (learn more about this here). 
If your bubble sheet assignment has multiple versions and students submit Regrade Requests, you can refer to the Versions column on the Regrade Requests page to see the version for each student.
To see a breakdown of scores and selected answers for each question, access the Statistics page. If your assignment has multiple versions, select the version tabs to view statistics specific to each version. For bubble sheet assignments, there is also an Item Analysis page, where you can see discriminatory scores for each question to determine whether the question is working well to discriminate students with knowledge from those that are just guessing.
Posting grades to your LMS
If your institution has LMS (Learning Management System) integration enabled, you will be able to post grades from your Gradescope assignment to the LMS via the Post Grades to [LMS Name] button on the Review Grades page. 
If your bubble sheet assignment has more than one version - It is possible to either post all grades from every version to a single LMS assignment, or post the grades of each version to separate LMS assignments. Before posting your grades, your Gradescope assignment needs to be linked to a single LMS assignment, or link each version to a separate LMS assignment.

To post all grades to a single assignment or gradebook column in your LMS, select the Post Grades to [LMS] button on the All tab of the assignment's Review Grades page.
To separate the grades for each version to a separate assignment in the LMS, select each version's tab on the Review Grades page and click Post Grades to [LMS] on each tab.
For more information on using Gradescope together with your LMS and on determining your LTI version, please refer to the LMS Workflow section of the help center.
Bubble sheet Statistics
Statistics
Reliability (Cronbach's Alpha) - looks at the reliability of the exam in that it is an adequate measure of students' knowledge. Reliability coefficients, such as Cronbach's Alpha, theoretically range from zero (no reliability) to 1.00 (perfect). Generally speaking, reliability for classroom tests range from 0.50 to 0.95. You should look to improve reliability for values below 0.50.
To improve the reliability score, you can either improve the questions (see discriminatory score) or add more questions. Gradescope does not recommend a minimum number of questions, but more covering a range of topics is better. (Balogh, JB. (2016). A Practical Guide to Creating Quality Exam)
Standard Error - shows the precision of the overall exam. The standard error indicates the range of possible scoring outcomes a student can have, plus or minus the standard error. Example: If John scores an 80 on the test and the standard error is 5.0, then John's expected scoring range would be 75 to 85. The higher the standard error, the less precise the exam is at measuring student knowledge. (Balogh, JB. (2016). A Practical Guide to Creating Quality Exam)
Standard Deviation - shows the spread of the scores or how the scores deviate from the mean. A low standard deviation means that almost everyone would've got the same score on the exam. If it's high, it's a large spread on the exam. (Balogh, JB. (2016). A Practical Guide to Creating Quality Exam)
Student Answer Report - a downloadable .CSV file with every student's answer and score for each question, so instructors can do their own analysis, such as curving or comparing scores for corresponding questions across versions. Instructors can export this report via the Download Responses button on the assignment's Review Grades page.
Item Analysis Report
Item Analysis - helps an instructor understand the quality of each test question by looking at the question and the individual options.
Discriminatory Score (Point Biserial Coefficient) - helps instructors understand a question's ability to discriminate between students who have mastered the content on the exam and those who are struggling.
A discriminatory score >0.2 means that the question is doing a good job of discriminating high-performing students on the exam from low-performing. There are several reasons why a point biserial is low, including bias, misleading questions, and difficult language. When the question is too easy, the point biserial will be low. It is also a good idea to check your answer key is correct. (Balogh, JB. (2016). A Practical Guide to Creating Quality Exam)
Distractor Analysis - shows what percentage of students who answered each option for an individual question. (Balogh, JB. (2016). A Practical Guide to Creating Quality Exam)
Was this article helpful?
Awesome, glad that it's helpful! 🙌 Have ideas on how we can improve?
Sorry to hear that. Let us know what we can improve!
Need help?