Exporting Assignment Grades
Exporting grades to your computer
From the Review Grades page, all data can be downloaded from Gradescope in CSV and Excel formats.
Gradescope offers three types of downloads:
Download Grades is a traditional list of Names, Submission Times, Total Scores, and Question Scores. For student-uploaded assignments, you'll also see a "Lateness" column (in HH:MM:SS format). For students who submit before the due date, "Lateness" will be recorded as 00:00:00 in the spreadsheet.
Export Evaluations is a more detailed report of students' scores for each question, showing which rubric items were applied to each student.
Export Submissions lets you download all of your students' graded assignments in PDF format. The rubric will appear as the first page of the PDF, and any annotations you made directly on the submissions will be visible. This option is useful if you would like to return graded exams in person rather than digitally.
Exporting grades to an LMS
(These instructions are for Canvas, but they apply to Blackboard, Brightspace, Sakai, and Moodle as well.) If your school has Canvas integration enabled, you can easily export your grades from Gradescope to Canvas. Note that an assignment must be published on Canvas in order to post grades.
To export grades to Canvas, click the Post Grades to Canvas button in the bottom action bar. In the dialog, double check that the correct Gradescope course and assignment are linked to the correct Canvas course and assignment. If everything looks good, click Post Grades.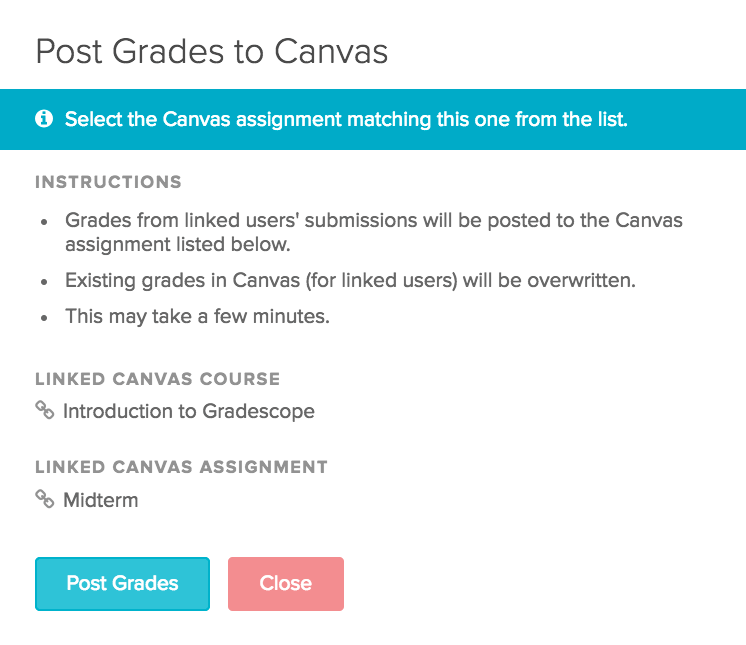 Once the export is complete, click Close. Student grades will appear in your Canvas course. Note that only students who have a teal  icon in the "Linked" column on the Review Grades page will have their grades sent to Canvas. Nothing will happen with accounts that are not linked. If the  icon is gray for any student(s), go to your Roster page and click the Sync Canvas Roster button.
If you regrade any question or update any student's grade, you will need to click the Post Grades to Canvas button again to re-export your grades.
Was this article helpful?
Awesome, glad that it's helpful! 🙌 Have ideas on how we can improve?
Sorry to hear that. Let us know what we can improve!
Need help?