Signing up for the assignment sections beta
Are you eligible to participate in Gradescope's sections beta? We are looking for instructors who use any of the following workflows:
Use the same assignment content for each section but require customizable dates.
If using Gradescope via an LMS, have all relevant sections within one course - as opposed to each section having their own individual course.
Grade submissions organized by section.
Would like to start using sections to organize their assignments.
Do each of your sections have their own course in your LMS? Individual Gradescope courses can only be linked to one LMS course. If you would like to utilize our new sections features, we recommend contacting your LMS administrator to discuss consolidating your sections into one course where applicable. 
If your
assignment content differs for specific sections
within the same course,
check out our guidance
on how to organize these assignments. 
Ready to sign up for sections? 
Create a new course, or multiple, in your Gradescope account. 
While inside your new course, copy the URL in your browser's address bar.
Fill out this form and provide the names and URLs of your newly created courses. 
All enrolled instructors and TAs to your specified courses will have access to the sections beta. 
Select Sign up for the beta!.
You will be notified by email once we have enabled the sections feature in your specified courses. 
You can return to the form with additional courses during the course of the beta. 
Have some feedback about the sections beta?
Contact us at
feedback@gradescope.com
with any comments or suggestions, we'd love to hear from you. 
Sections in the roster
Adding sections to the roster
Students must be assigned to a section in your Gradescope course's roster for the section assignment settings to appear. There are two possible methods for adding sections to your course roster: sync existing sections from an LMS, or add them manually. 
If you are integrated with an LMS, you may be able to sync your existing sections to the Gradescope roster. 
Access your course in Gradescope. 
Select Roster from the left navigation menu.
Select the Sync **** Roster button at the bottom of the page. The button will be customized to reflect whatever you call your LMS internally; we have used Moodle for the example below. 

Depending on your LMS, you may be asked to check a box to sync sections. If there is no separate sections option, they will either sync automatically or the feature is not set up for your integration. 
Select Sync Roster. 
Students should now be assigned to a section within the Gradescope roster. If not, you can assign sections manually. 
To assign sections manually or to edit existing sections:
Using an LMS but want to edit your roster in Gradescope? You can edit your roster within Gradescope and it will not affect your LMS as long as the student email addresses remain the same. 
Access your course in Gradescope. 
Select Roster from the left navigation menu.
Select the Download Roster button from the bottom of the page. It may be located within the More option.
Edit the CSV file by adding a column named Section and fill in each student's row with their applicable section. 

 
Upload your CSV file by selecting the Add Students or Staff + button and then select CSV file.
You will be provided with a preview of how Gradescope has read your CSV file. Review the content and confirm when you are ready. 
Your roster should now include a completed Sections column.
Have a student without a section? They will still receive the assignment with the dates that were set at the beginning of the assignment creation process. This date can be seen and edited within the Assignment Settings, under the Basic Settings option. Your students can also be added to a section at any time. 
Editing student sections
To view or edit which section a student is assigned to:
Access the roster for the applicable course. 
Locate the Edit column and select the pencil icon.

You can either: 

Select a different section for the student from the drop-down.
Create a new section by typing its name directly into the Sections box. This newly created section will now appear as an option for the other students in the roster. 
Remove the student from a section by selecting the X in the corner of the section name. 

Select Save. 
Student changed section mid-term? If a student's section changes mid-term, they will be shown their new section's assignment dates and visibility settings. 
Creating an assignment with sections
Once your students have been assigned to a section within your Gradescope course's roster, you can utilize the sections feature when creating a new assignment. 
Section-specific assignment settings are only available for student-uploaded assignments.
Access a course that has the sections beta enabled.
Select Assignments from the left navigation menu. 
Select the Create Assignment button from the bottom of the page. 
Choose your assignment type and then select the Next button at the bottom of the page. 
Fill in the setting appropriate for your assignment and:

Ensure that it is a student-uploaded assignment (if you require specific dates for sections.)
You will be able to edit individual section's assignment dates on the next page, so we recommend setting the most commonly required dates on this page first. 

Select Next at the bottom of the page. 
You can now edit individual sections to have their own customized dates or remove access to the assignment for specific sections by turning off the student visibility. If you don't want to make any changes, or want to make changes later via the Assignment Settings page, select Create Assignment.  
Do you have sections which should not receive the assignment at all? Select the student visibility toggle for the applicable sections and turn it off. This can be reversed in the assignment settings at any time if required. 
Section dates can be customized individually, or in bulk.

To customize multiple sections at once - select all of the applicable section's checkboxes and then select the Customize Dates & Student Visibility button. 
To customize an individual section - locate the section from the list and select Edit.

Edit any of the assignment date settings that are applicable to your selected sections. 
You can remove any accidentally selected sections by selecting the X, or add any forgotten ones by typing their name in the Selected Section(s) box.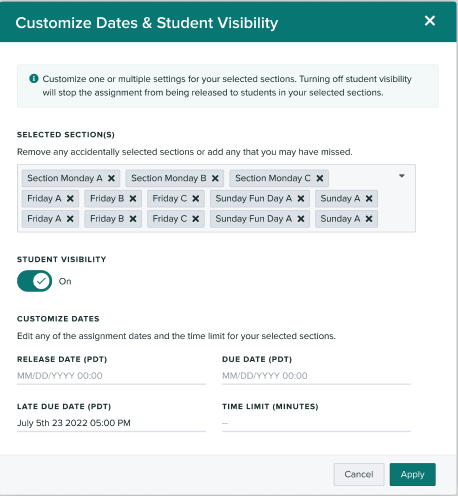 Select Apply. 
Once you have made any required edits to your sections' assignment settings, select Create Assignment. 
Your assignment will now be listed on the Assignments page. Select the down-facing arrow beside the assignment name to reveal the individual sections and their dates.

 
Editing section assignment settings
To edit section-specific assignment settings:
Access a course that has the sections beta enabled.
Select Assignments from the left navigation menu. 
Select the three vertical dots at the end of the row of assignment details. 
Select Assignment Settings. 
Select the Section Management tab.
Make any required edits. 

It is possible to turn student visibility back on. 
If sections have already been modified with specific dates, they can be edited again if required. 
Grading by section
To filter your grading by section:
Access your assignment and select Grade Submissions from the left navigation menu. 
Hover over a question and select Submissions. 
Once the Submissions page loads, each student's section will be listed beneath the Section column. Select the section you would like to grade. 
You will be taken to the selected student's submission. When you are ready, selecting Next or Next Ungraded will take you to the next submission in your selected section.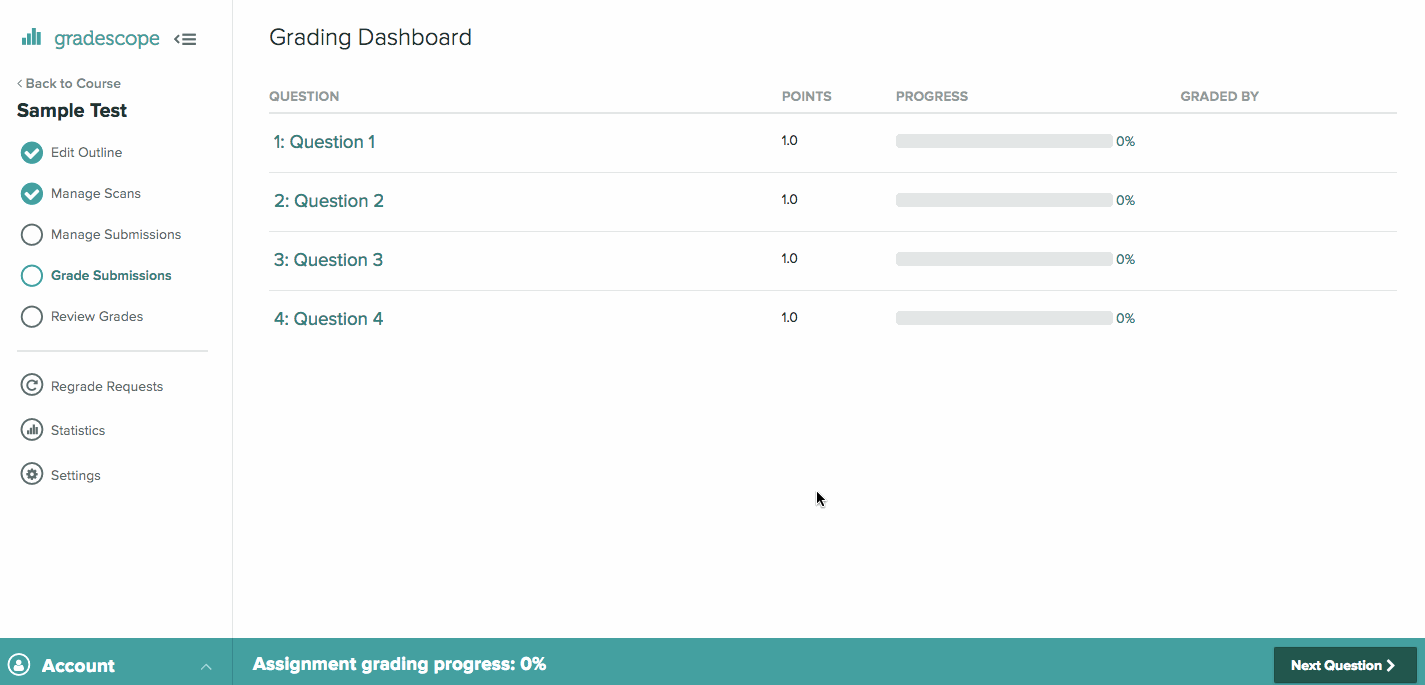 Section FAQs
What happens if a student is assigned to multiple sections within the same course? 
If a student is assigned to multiple sections, they will only be shown the assignment once. If their sections are customized with different dates, they will be shown the version of the assignment that has the earliest release date or latest due date. 
How do group submissions work when using sections?
Students can only submit when their section assignment date allows, but they can add group members from any section after submitting. 
Will students see which section they are assigned to in Gradescope?
Students will not be shown which section they are assigned to. They will only see their assignment with the dates that were set for their section. 
What happens to my sections if I duplicate an assignment? 
Duplicating an assignment will not carry over any edits to sections. It will continue to duplicate all of the main assignment settings.
How do section settings work together with assignment extensions?
Sections still allow students to be assigned an extension for their assignment. Each section's date settings will appear on the extensions page so that students can be given an appropriate extension based on their section.
Was this article helpful?
Awesome, glad that it's helpful! 🙌 Have ideas on how we can improve?
Sorry to hear that. Let us know what we can improve!
Need help?